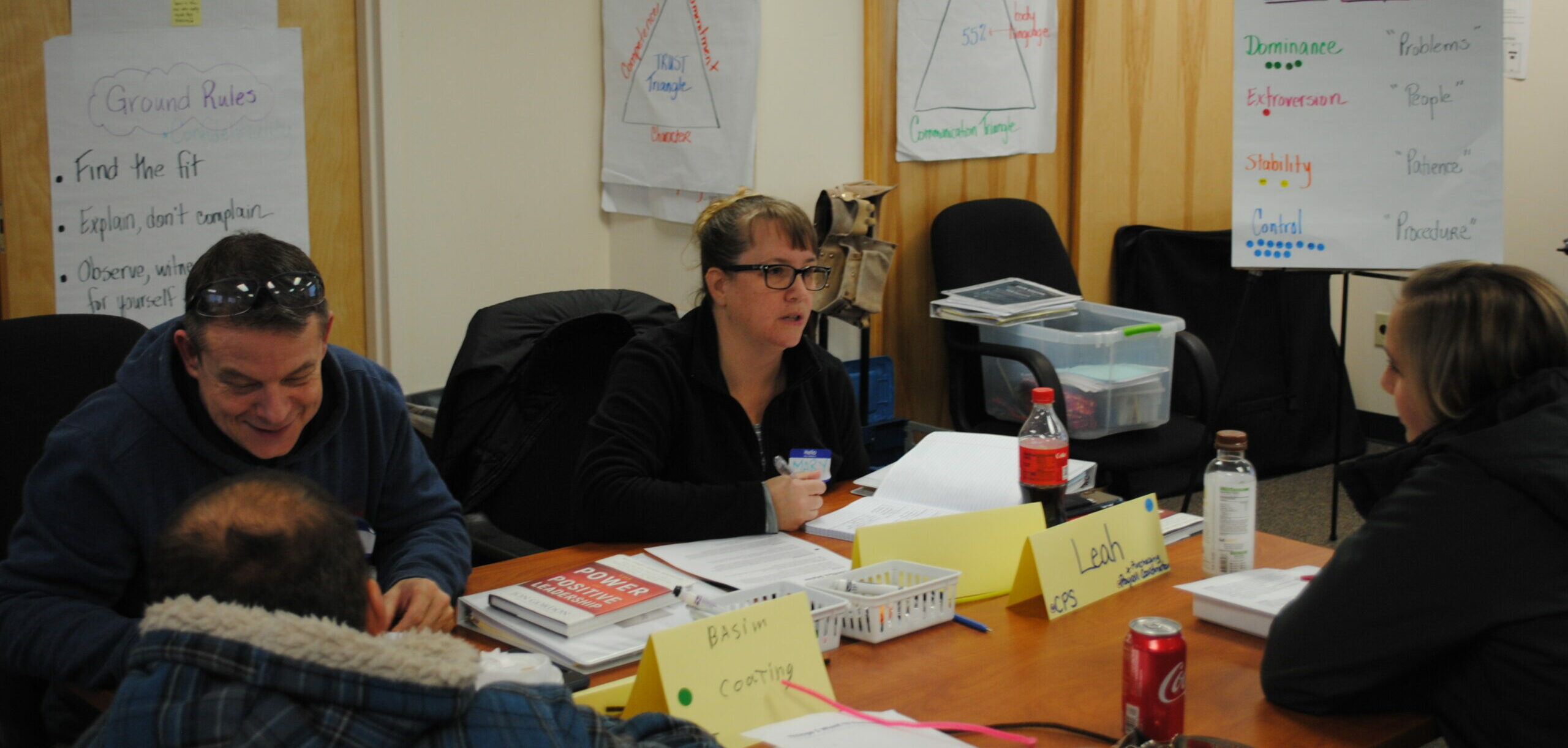 Business/Learning and Development
Become a better leader with our custom training programs.
We believe in learning by doing at Vermont Tech. That's why we take a hands-on, results-driven approach to our business and leadership trainings.
Whether you're an experienced leader or learning the ropes, we can help you grow in your career and positively impact your organization. You'll learn how to:
Navigate tricky situations
Communicate effectively
Quickly apply your new skills at work
See below for examples of trainings we can customize to meet your needs. We serve businesses of all sizes.
Proficiency Based Leadership Series
Gain the skills you need to effectively lead today's rapidly changing, multi-generational workforce. This one-of-a-kind training combines lively classroom sessions with practical, on-the-job skill application.
Each four-hour session focuses on a specific proficiency:
Communication
Conflict
Feedback
Coaching
Team Agreements
Change
This training includes classroom instruction, group discussions, case studies, professional reading, and other interactive activities. We can customize this training to include return on investment projects.
Great for: leads, supervisors, managers, and upper level leadership teams
The Hard Soft Skills
Learn to effectively manage and motivate teams in a modern workplace. This four-part series emphasizes positive interpersonal growth and social skill development. You'll learn how to:
Identify and execute effective communication skills.
Identify your conflict style and learn conflict management strategies.
Practice and demonstrate giving positive and developmental feedback.
Positively coach and motivate employees.
This training includes professional reading, individual assessments, peer coaching, and classroom instruction.
Great for: new or experienced leaders seeking modern, formal leadership training
opens in a new windowCheck out our current Hard Soft Skills offerings.
Sales 101: Reconnecting with Your Clients During and After COVID-19
Learn how to connect with your clients, grow your business, and reach your sales goals while creating raving fans. Humans are not born knowing how to sell. Sales skills, like all other skills, need to be learned. Discover the fundamentals of sales that will:
Build your confidence
Show you how to ask the right questions
Present your service or product
Secure the business by utilizing a customer-centric approach to sales.
Successful businesses invest in creating long-term relationships with their clients to maintain an advantage over their competitors. This relationship-based sales process will enable you to:
Understand your future clients' needs
Help future clients' achieve their goals utilizing your service or product
Retain your current client base
Create life-long advocates
Great for: professionals who want to hone their sale skills
opens in a new windowCheck out our current Sales 101 offerings.
DiSC: Understanding People's Behavioral Styles
Explore different behavioral styles to become a better communicator. Using an assessment tool called DiSC, you'll learn about the four major behavioral styles: Dominance, Influence, Steadiness, and Conscientiousness. Learn how your style impacts your work and how to work with people who have a different style.
Great for: employees of all levels
Train the Trainer
Learn practical teaching skills to become an effective workplace instructor. Designed for employees who need to train others at work (but don't have a teaching background), this program offers teaching secrets from an instructor with over 30 years of experience. Participants will learn how to:
Accommodate various adult learning styles.
Apply at least ten different teaching techniques.
Engage reluctant or unhappy learners
Create a mini-lesson using an instructional design model.
Make continuous improvements to their lessons.
Great for: aspiring workplace instructors
For more information, contact:
Dianne Gross Percy
Director, Business Learning & Development
(802) 236-9161
dpercy@vtc.edu