Arborist Apprenticeship Program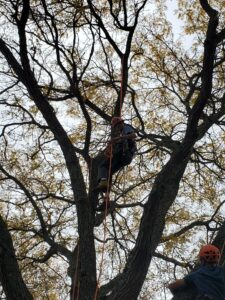 We support Vermont's arborists and municipalities, such as linemen and town foreman, with our registered on the job training apprenticeship program and related instruction program trainings.
Registered apprenticeship is an industry driven, high-quality career pathway with an excellent ROI.
It enables employers to develop and prepare their future workforce, and individuals to obtain paid work experience with incremental salary increases, classroom instruction skill development opportunities, and a portable nationally recognized credentials with the International Society of Arborists.
Apprentices are required to complete 144 hours of classroom instruction within two years of the apprenticeship. During this time, apprentices work on-the-job under certified arborist to obtain the required 2,000 on-the-job hours required to sit for the ISA certified exam.
Apprentices also participate in Emergency First Aid Training once during the two years of the apprenticeship. This training is offered at no cost to apprentice through Vermont Department of Labor grant funding.
Registration Info

Employers or interested students should contact Molly Willard for more information.